Mega Giveaway by Auni,Yanie dan Izyan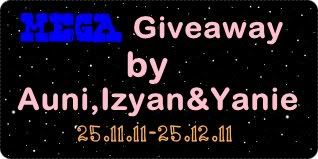 Assalamualaikum and Salam sejahtera
♥
Hari ni saya nk sngt masuk contest and harap2 boleh la menang.Saya join contest nmenye " Mega Giveaway by Auni,Yanie,And Izyan"....
Syarat-syaratnya :-
Buat entry tentang "

Mega Giveaway by Auni, Yanie dan Izyan

" dan ambil banner dekat atas ni.

Contest bermula 25/11/2011 sehingga 5/12/2011. -dipercepatkan sebab kami bulan 12 ada banyak benda nak kene buad. Izyan ada kenduri Acu kawin. Auni pindah takot internet lambat psang. Yanie idk-

Kurang daripada 15 orang. Automatic contest ni batal serta merta.

Letakkan link contest korang dekat kotak comment. Kalau korang ambil dari blog Auni. Komen di blog Auni. Kalau dari blog saya. Komen di blog saya. Kalau dari blog Yani, komen di blog Yani

Tag kan 2 orang dan pastikan mereka tahu.

Pemenang dipilih menggunakan Random.org
Saya nk tag : Qay and Athirah Rahim..
Unspeechless,Hazyym